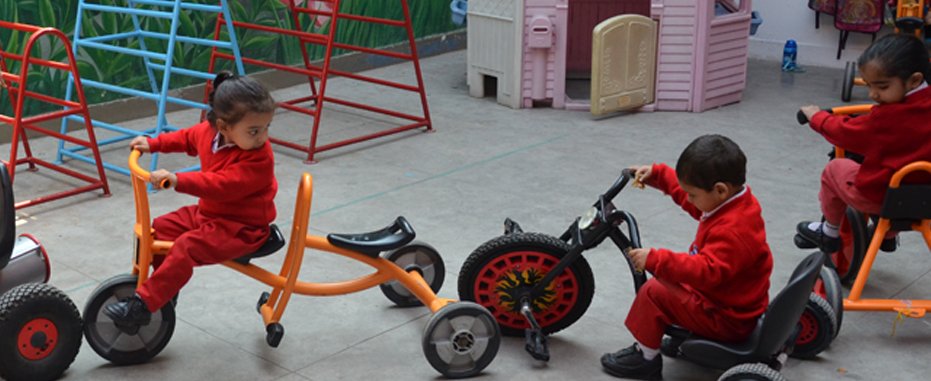 KANGAROO KIDS PRE SCHOOL
Total involvement with the task at hand is at the heart of the Kangaroo Kids philosophy. With caring support and close supervision, we aim to inspire self motivation and a hunger for knowledge.
Housed in a dedicated building, thoughtfully planned, in classes buzzing with activity the youngest children are absorbed in the fun and adventure of learning.
The pastoral care of the children is of prime importance to us, we want every child to look forward to coming to school and to regard it as a safe, happy and exciting place to be. The pupils are closely supervised at all times and a friendly, tolerant and mutually supportive atmosphere promoted.
HOW WE MAKE A DIFFERENCE TO YOUR CHILD
Kangaroo Kids instills a lifelong love for learning in its students. It rejects the idea that a uniform learning experience is good enough for all children. Instead, at KKEL the focus is on customizing learning, keeping in mind that each child is unique and learns differently. It imparts a holistic education based on a path breaking model which has the following pivotal underpinnings:
LEARNER-CENTRIC
Today learning makes greater sense as a lifelong process and we realize the importance of developing a 'quest for learning' in children. We here at Billabong High International seek to nurture this love for learning and provide children with opportunities to experience the joy of learning. Research has shown that this is not possible without the learner's prior engagement and conditions which encourage learning. We achieve this in myriad ways – from our classrooms and our equipment to developing a proper research based curriculum which is upgraded constantly.
The most important aspects of the learner centric approach are:
Optimum Teacher-Student Ratio
Safe and Supportive Classroom
Open Entry Policy
Inclusion Policy
The quality of teachers is also of equal importance. Apart from ensuring that our teachers are highly trained, our recruitment process ensures that the selected individuals have qualities which invoke learning and leave a positive influence on students.
PHYSICAL ENVIRONMENT
School environment is learner-friendly.
Most of the study material is kept in class.
Schools are designed for maximum learning.
Classrooms and play areas are safe.
Optimum temperature is maintained in class to enhance the learning process.
Equipment is regularly upgraded to match changes in the curriculum.
Student numbers are limited as per guidelines.
EMOTIONAL ENVIRONMENT
We ensure a nurturing, warm and friendly environment where children feel emotionally safe.
All children are encouraged and paid attention to, making them feel accepted and special.
Assessment is continuous and non intimidating. Various models are used to gauge understanding and encourage personal excellence.
Strategies for time management and planning study schedules are taught to reduce examination stress.
In addition to written assessments we also adopt various performance-based assessments, like response journals, debates, projects, research and creative writing that indicate academic progress. Most units are followed by a Performance of Understanding. A Performance of Understanding is an activity – based display that showcases the knowledge and skills that the students have acquired.
Classroom dynamics encourage active participation of students giving them complete freedom to express themselves, thus boosting their self confidence.
Enrichment and support programs are designed to hone the potential of all students.